» Welcome to KTMDuke390Forum: The #1 KTM Duke 390 Forum
KTM Duke 390 Forum - A KTM Duke forum specializing in the popular Duke 390! KTM Duke Forum offers enthusiasts a place to talk about the KTM Bikes they love. We welcome you to KTMDuke390forum.com and ask that you please REGISTER for free so you can take advantage of all the features we have to offer. Not to mention talk with other new KTM Bike fans and riders

[Timezone Detection]

Really Fast Registration - Join in seconds!



KTM... Bicycles?
Jul 17, 2014 - 10:01 AM - by sandy mary
I've always viewed cycling as one of the best forms of exercise, I mean running is a bit foolish and lifting and moving weight about is more than a bit dull. No, I like cycling because not only do you run your legs ragged and put your lungs through the ringer you get to work on your motorcycling as well.
Of course its not the same as motorcycling, but 2 wheels are 2 wheels, and if time away from 2 wheels can be spent on 2 wheels well then I call that a benefit.




Pardon my prattle, just needed a bit of a preface to where I'm coming from. What I've only JUST discovered is that KTM is also a manufacturer of top quality bicycles as well as hooligan grade motor bikes. Only over the last year have North American distributors popped up for their Bicycle range, America got them in 2013 Canadians only just.

Regardless, have you SEEN the product? Goodness. I mean what are you into, road, cyclo-cross, crits, mountain bombing, city slicking? They even do e-bikes (pretty ones).

The Revelator forms the backbone of their road race range, 9 different derivatives are on offer, covering everything from the over weight anorak to the sharp and sleek semi-pro. One really cool feature is KTM is trying to introduce disc brakes into the road scene, why not? They also beefed up the bolt thru axles to cope with the extra twist introduced by the discs.




Cables are routed through the frame, the seat post is held with an integrated pin, the bike is really sleek and clean.




They're also big into Cyclo-Cross, winning several international titles way back in the 60's. Anyways they've got a new cyclo-cross mount on the market now called the Canic CXC. Again a carbon monocoque can be found, integrated cables, flat mounted hydraulic discs...




Really I could geek out and talk about bicycles the rest of the day, but there's work to be done and this has gone on long enough. Check out their website if you want to have a gander at their full range. Hardtail - KTM BIKE INDUSTRIES. In North America they're pricey and hard to find however, hey just like the motored kin...

Cabin Fever much, I'm writing to y'all about BICYCLES!!!
1 Reply | 71 Views
KTM 390 Duke Recall... Sorta.
Jun 03, 2014 - 11:06 AM - by Maverick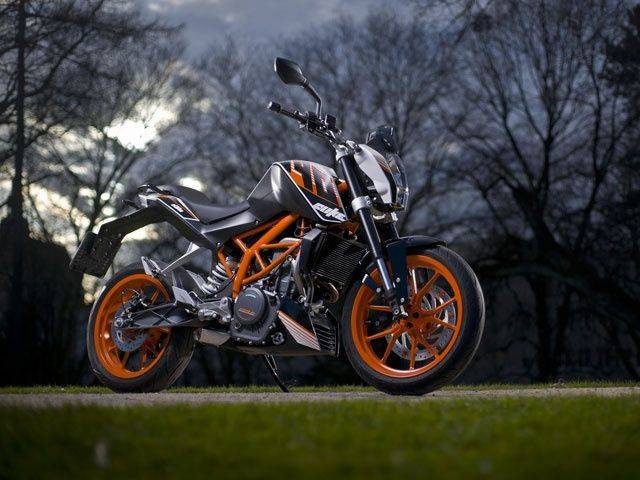 It appears that KTM is trying to quietly fix a problem with some of its KTM 390 Duke bikes without actually submitting a formal recall. They are instead calling it TI, or technical information.

Bikes built before March of this year may have their front sprocket misaligned, and as a result, the chain may come off the teeth. The problem was detected by KTM, and bikes built since March have proper front sprockets installed instead of the faulty ones.

KTM has not issued a formal recall because that is only done for "safety related issues," though I'm not exactly sure how the chain coming off is not a safety issue. Instead dealers are quietly fixing the problem during routine service operations.

KTm doesn't want to tell you, but luckily I am here to relay the news to you guys. If your 390 Duke was built before March, maybe you should think about taking it in to get things checked out.

KTM 390 Duke Recalled... But Not Quite So
11 Replies | 712 Views
KTM Will Offer Official Performance and Economy Mappings in India
Apr 28, 2014 - 11:20 AM - by Heizenberg


Interesting and exciting news coming from KTM India! Upon request, dealers will install factory-approved custom software to alter the performance of Duke machinery.

KTM will initially offer two new mappings for the Duke. The first one is a performance-oriented engine mapping, which will offer increased power and torque and adding to the bikes' nerve. This seems to be one of the most common modifications Indian KTM customers are looking forward to.

The increased performance will lower the overall mpg figures, but that isn't much to trade for losing your warranty. A second available mapping will be an economy-focused one, aimed at improving the mileage, while obviously reducing the overall power deployment and making the Dukes a bit more mellow, but offering more miles for the buck.

The mappings have a yet unknown price, and the warranty of the bikes will not be affected and in case defects occur, they will be treated as usual.

Pretty cool that you get a choice of different versions of the same bike. What mapping will you choose?
17 Replies | 1,045 Views
» Recent Threads

Rating

Title, Username, & Date
Last Post
Replies
Views
Brighter bulb in the...

Today

03:37 AM

by

Erwinbl

19

744

Hello from the UK

Today

12:50 AM

by

spyder

8

88

Upgradeable ABS for the...

Yesterday

11:43 PM

by

kawasoju

7

78

Single Seat Conversion

Yesterday

05:11 PM

by

swannie_za

18

203

Welcome to KTMDukeForum!...

Yesterday

05:10 PM

by

Dan1

61

3,231

FUEL CONSUMPTION all...

Yesterday

04:54 PM

by

swannie_za

5

95

KTM Duke 390 Self Study...

Yesterday

03:38 PM

by

Dan1

54

5,737

Engine RPM fluctuates at...

Yesterday

12:38 PM

by

HazardousDuke

5

63

Win £500 of GetGeared...

Yesterday

09:46 AM

by

Chris56

0

23

hello from italy

Yesterday

08:39 AM

by

B7ACKTHORN

7

56

QuickShifter for Duke...

Yesterday

04:08 AM

by

Dan1

15

387

Is the UK 390 restricted?

Yesterday

04:04 AM

by

Dan1

5

61

KTM 390 from Hyderabad

Yesterday

03:56 AM

by

Mostin3

4

70

Tank removal

Yesterday

03:38 AM

by

flavio390

11

437

"Maligayang...

Yesterday

01:53 AM

by

kawasoju

4

52

Adjustable levers

07-22-2014

11:25 PM

by

Freakrz

18

216

Lose the tank stickers ?

07-22-2014

08:26 PM

by

Simatrik

33

1,888

Are we there yet????

07-22-2014

07:15 PM

by

DustyDan

23

496

Blinded by the sun's...

07-22-2014

07:13 PM

by

DustyDan

7

239

Hi KTMers...

07-22-2014

07:08 PM

by

DustyDan

3

83

IXIL Dual underseat...

07-22-2014

07:06 PM

by

DustyDan

31

1,013

hi 390 rider from KL,...

07-22-2014

02:13 PM

by

HazardousDuke

35

1,421

PowerTRONIC Plug-in...

07-22-2014

10:06 AM

by

Freakrz

124

11,537

Quick Action Throttle Mod

07-22-2014

03:53 AM

by

mitchb

57

4,902

390 Duke Sprocket's

07-22-2014

03:23 AM

by

Freakrz

0

52
KTM DUKE 390 TECHNICAL SPECIFICATIONS
ENGINE
| | |
| --- | --- |
| Design | 1-cylinder 4-stroke engine, water-cooled |
| Displacement | 373.2 cm³ |
| Bore | 89 mm |
| Stroke | 60 mm |
| Performance | 32 kW (43 hp) |
| Starting aid | Electric starter |
| Transmission | 6 speed, claw shifted |
| Engine lubrication | Forced oil lubrication with 2 Eaton pumps |
| Primary gear ratio | 30:80 |
| Secondary gear ratio | 14:45 |
| Cooling system | Liquid cooling system, continuous circulation of cooling liquid with water pump |
| Clutch | Wet multi-disc clutch / mechanically operated |
| Ignition system | Contactless, controlled, fully electronic ignition system with digital ignition timing adjustment |
CHASSIS
Frame
Tubular space frame made from chrome molybdenum steel, powder-coated
Fork
WP Suspension Up Side Down
Shock absorber
WP Monoshock
Suspension travel Front
150 mm
Suspension travel Rear
150 mm
Brake system Front
Disc brake with four-pot brake caliper
Brake system Rear
Disc brake with one-pot brake caliper, floating brake discs
Brake discs - diameter Front
300 mm
Brake discs - diameter Rear
230 mm
Chain
5/8 x 1/4" (520) X‑Ring
Steering head angle
65°
Wheel base
1,367±15 mm
Ground clearance (unloaded)
170 mm
Seat height (unloaded)
800 mm
Total fuel tank capacity approx.
11 l
Unleaded premium fuel (95 RON)
Weight without fuel approx.
139 kg
* Manufacturer's suggested retail price (MSRP), the actual sale prices can vary.

» Search Tags for this Page
, , , , , ,
» Site Navigation
» Stats
Members: 765
Threads: 960
Posts: 6,239
Top Poster: Dan1 (732)

Welcome to our newest member, Erwinbl