Off Road Duke
---
There was a picture posted on the Australian Duke 200/390 Facebook page of a duke 200/390 that was modified as a dirt track bike.

I cant get access to the page (I was banned for starting my own duke page, which is now deleted) so i was hoping that someone could post that picture up on here.

I am considering doing similar to my 200. Nobby tyres, 21" front wheel, etc.
Are you talking about this bike: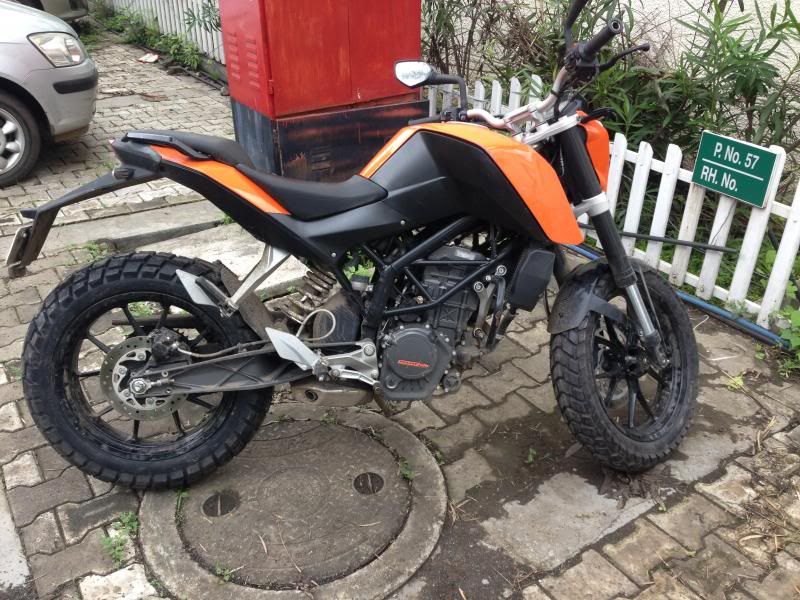 From the Indian forum where this was taken, it has a Vee rubber tyre at the back and a Pirelli MT60 at the front.
From my own looking into it for a decent dual tyre (looking to make a modern scrambler out of the duke), Pirelli MT60 Corsas are a good option size wise. So are the Avon Distanzia Supermotos. That's with keeping the stock wheels and for some light dirt use, gravel roads and dirt tracks and the like, nothing major. The Distanzias are 90% road-10% dirt sort of tyres, Supermoto guys rave about them. Sounds like they would still be excellent on the road.
What I'm really looking for is a bash guard to replace the plastic beak...
Looks good, and good info, but not the one that im thinking of.

This other one had spokes, and a 21" front wheel, modified front fender/mud guard.
I'm sure it was from india too.
I'll be looking at welding up a bash guard
Senior Member
Join Date: Oct 2013
Location: Far North QLD Oz
Posts: 817
Try searching derestricted's fb page. Think I seen it there as well, I know the one your talking about. Had the Enduro forks and 21inch rim.

For a bash guard try looking at the dirt range for options, seen one fitted to a 200 somewhere.
Senior Member
Join Date: Oct 2013
Posts: 112
this one?
Senior Member
Join Date: Oct 2013
Location: Far North QLD Oz
Posts: 817
Yep, thats the one I seen.
Still not the bike that i am thinking of.
But that thing is mean!
Posting Rules

You may not post new threads

You may not post replies

You may not post attachments

You may not edit your posts

---

HTML code is Off

---