Hi everyone!
This is my full recipe for real engine performance with contained costs and an eye on minimize knocking issues...
You will need all this material and do the installation following this order:
1.- Fuel Pressure Regulator: 3.5 Bar or 4.0 Bar 42€
3,5 BAR KTM 390 Duke Bajaj 17- Regulador de Presión de Combustible 90207088000 | eBay
Stock FPR is rated @ 3.0 BAR. This 3.5 BAR or 4.0 Bar FPR will improve idle because of better fuel atomisation and enrich the open loop side of the throttle AFR to compensate more airbox flow and exhaust flow. No need for piggyback 🐷 ECU, remap, higher flow injector and all that messy expensive crappy stuff. Let stock ECU do the job.
(Note in the image above, left side, STOCK NEW STYLE ADJUSTABLE FPR, no need to buy nothing). Yes: KTM new models stock FPR is adjustable. Guess why?
Increasing air flow and exhaust flow without compensating with more fuel injection will certainly lead to lean moistures, power losses, overheating, engine knocking and as consequence, reduced engine lifespan. More on this topic:
fuel injector flow rate
You will need to disassemble the gas tank and extract the fuel pump assembly to install the new FPR or to adjust the new style one... When finished all the upgrades, don't forget disconnecting the battery, for a couple of hours to reset ECU. Reconnect and run the bike a while in every RPM range (500 RPM steps) to let the ECU learn closed loop with the new FPR, decat pipe and airbox lid.
2.- Iridium sparkplug: LKAR9BI9 - NGK 17,54€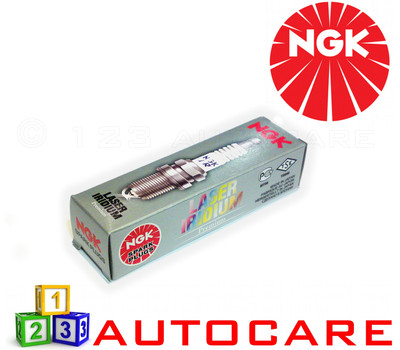 Las mejores ofertas para LKAR9BI9 - NGK Bujía Bujía - Tipo: Láser IRIDIO - Nuevo N.º 6205 están en eBay ✓ Compara precios y características de productos nuevos y usados ✓ Muchos artículos con envío gratis!
(Note original spark plug at left side and iridium at right side: identical electrode protrusion on combustion chamber).
With the fuel tank removed you will have easy access to the spark plug. This Iridium spark plug allows bigger initial flame kernel and faster flame propagation (moisture more complete burn, less emissions). It can last for 50.000km or more, so less frequent need to service it. Also is 2 degrees colder rate than original one (engine less prone to knocking).
3.- Decat pipe: Arrow 310€

Les meilleures offres pour COLLECTEUR RACING ARROW HUSQVARNA SVARTPILEN / VITPILEN 401 2020 sont sur eBay ✓ Comparez les prix et les spécificités des produits neufs et d'occasion ✓ Pleins d'articles en livraison gratuite!
( Note flow restrictive flattened tubing section just after the cat on the original header...)
For the 2020 & up model, decat pipe is the full header pipe so it's more expensive, but 2019 and previous models can decat for 90€ (or much less at AliExpress)... (Note that there's a second catalytic converter in the final chamber insert section).
4.- Exhaust Wrap: 8,44€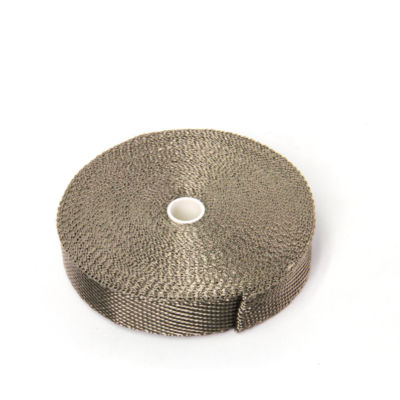 Size: 1in. x1/16 in.x 25 ft. Length: 10m(33ft) Wide: 25mm(1in) Thickness: 1.6 mm(1/16 in.). Turbo Blanket. Welding Blanket. Ceramic Fiber Blanket. It has the ability to handle higher heat for improved performance.
Before installing the Decat pipe you absolutely must heat shield wrap the exhaust header (and decat pipe). Always start wrapping from the tail side and end on the header side, to keep an aerodynamic pattern and make it tight.
In 2019 and previous versions, the exhaust runs aside the TBI and air intake manifold. This caused heat soak and lack of performance due to air intake increased temperature. Hot air in the intake manifold induces engine knocking (reliability issues). Not to mention rider's thermal discomfort...
2020 & up models exhaust is routed downwards, but you should also wrap because it helps keeping the combustion gases hotter and this improves exhaust flow velocity. So wrap all that crap...
5.- Air box lid: DNA P-KT3N20-S2 56€
The DNA Stage 2 Kit, can be either a DNA filter or a DNA cover that is designed to replace a part of the air box, seriously increasing air flow to the engine. With the proper fuel recalibration the results are always very impressive.
www.e-dnafilters.es
This is the best air box lid. The perfect decat pipe companion. It increases air flow to the engine and set the engine tone as a big bad boy. So don't save money on this. Keep the stock paper air filter because engine's max RPM will remain the same as stock and there's no more restriction on paper filter element. This kind of mod strategy is equivalent to the factory larger airbox used in the new 2022 RC 390's: although is Euro 5, preserves same power as before without engine displacement increase...
6.- Mo Cool Motul: 11,50€
MOTUL mocool 0,5L : Amazon.es: Coche y moto
The more power, the more need to heat dissipation... KTM 390 and our 401's are famous for overheating and continuous fan operation. So ad Mo Cool to the cooling fluid. If necessary, drain some coolant to make room for this additive. Cooling system failure can lead to engine knocking.
7.- Militec1: 17€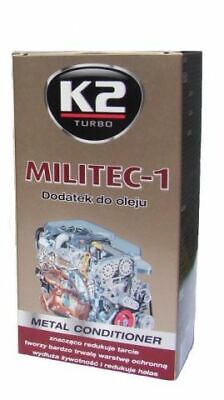 Entdecken Sie 5,98€/100ml MILITEC-1 Vollsynthetischer Ölzusatz Motorölzusatz Öladditiv Metallv in der großen Auswahl bei eBay. Kostenlose Lieferung für viele Artikel!
Metal conditioner, the best drag reductor in the world. It doesn't change original oil density, no sludge or metal deposits, no problems with bike's wet clutch... The engine will run smooth (less vibration), cooler, with less wearing (valve shims). Also the less drag between engine moving parts, the more power delivered to the rear wheel. 2020 & up model quickshifter ("easy shift") runs espectacular with Miltec1 in the carter.
8.- 43Teeth rear sprocket: 60€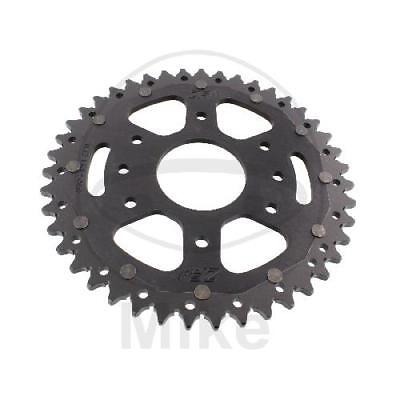 Entdecken Sie ZF ZFD-890-43-BLK in der großen Auswahl bei eBay. Kostenlose Lieferung für viele Artikel!
We're increasing engine performance, so we're applying more torque to the rear wheel. This bike has no slip control so this rear sprocket will slightly reduce by 5% rear wheel applied torque when getting out the curves and also improves by a 5% bike's top speed (lower cruising RPM, better engine lifespan). No need to modify chain length (number of Links) with this sprocket. Front sprocket remains stock (15 teeth).
Also this rear sprocket features aluminum core and stainless crown so lightweight and durable...
Use this sprocket calculator to determine the impact on bike's behavior with different sprocket ratios:
9.- High octane fuel: 98 octane rate (RON in Europe) or equivalent 93 octane rate (AKI in United States).
This engine has high compression ratio: 12.5:1 and runs on the lean side AFR (Euro4). To avoid engine knocking (pinging) use the higher octane rate gasoline available. Also from time to time, fill it up with Shell V-Power NITRO to clean carbon build up in combustion chamber, valve heads and spark plug. Carbon spots induce knocking.
10.- Stock mid chamber muffler, stock tail muffler, stock Db killer, no money spent in sound. Sound doesn't make power. This mod registered only 1db increase at idle. How many thousands of neighbours in a big city can be disturbed by just only one slip on idiot???🧐 If engine max RPM is not increased, hardly the stock muffler will be restrictive. Power= (RPM * Torque/5252). Yes, increasing engine's max RPM is good for power but it also affect engine's lifespan and that's not budget...
This is all: 450€ for 2020 & up models and 300€ or less for previous models.
Mattighoffen engineers made a superb engine respecting Euro4 emissions. I respect burning fuel into the chamber to make useful power with efficiency (work) instead of burning up fuel @ the cat to produce heat... World climate will change as always (as expected) but not for anthropogenic causes.
Those of you that say "if you want more power buy a bigger bike" are right. Spending thousands of € in a small engine performance increase is not worth. But you are also snob 🤣 and lack of technical knowledge. Real improvement can be done on this engine without spending too much.
The key for a reliable mod is always keep an eye on engine knocking wich is one of the most destructive events that can occur in an engine